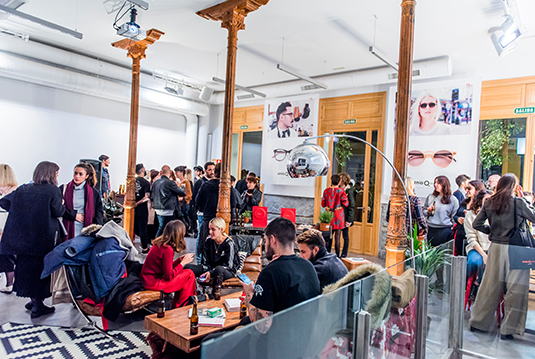 On November 3rd, we travelled to Madrid to present our Vintage Collection to the press, bloggers, influencers, and friends of the brand.
The event took place in the Malasaña neighbourhood, naturally, as each model takes takes its name from a historic neighbourhood in a major world city known for the cultural movements that started there and altered its history. Malasaña is the name of one of these models.
From 10:30 in the morning to 5:00 in the afternoon, numerous media figures and bloggers visited the "Espacio Ciento y Pico" on Velarde Street to see for themselves not only the Vintage collection but also the entire Etnia Barcelona universe.
A perfect occasion for getting out our story, philosophy, and tradition, which dates back to 1920, well before our birth in 2001 even.
In the morning, additionally, painter and urban cyclist Manu Campa, one of the faces of the Vintage collection campaign, accompanied us as he painted a work inspired by the campaign's photo shoot.
In addition to the models of the Vintage collection, the event's attendees were also able to see other Etnia Barcelona lines. Iconic models from past collections like Wild Love in Africa, Yokohama, or optical models from the Originals collection.
The event not only attracted journalists and bloggers but also influencers, who dropped by between 7:00 and 9:00 p.m. to share a "Malasaña" beer with us, try on the new models in the Vintage collection, and dance to the rhythms of the session by DJ and stylist Zaida Rodríguez.