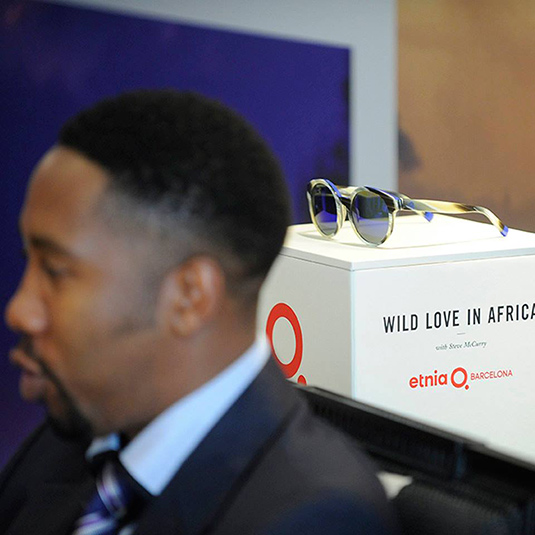 A week ago we had the pleasure of being accompanied by Steve McCurry and Ndaba Mandela (grandson and heir of Nelson Mandela) for the presentation of our WILD LOVE in AFRICA collection to the media. National and international press gathered at Hotel Villa Magna in Madrid to find out all about McCurry and Mandela´s experience and impressions of their collaboration with Etnia.
We loved meeting up with Steve McCurry again several months after his experience with the Etnia Barcelona team in Africa. We were extremely pleased to see how moved he was by the outcome of the project and how delighted he was with the collection!
We were thrilled to hear that he felt a great degree of freedom during the project, which is precisely our goal when collaborating with artists, letting them express themselves freely:
"Working outside and being part of a great team with a great product felt like good karma. We were surrounded by all of these wonderful animals one doesn't normally see and the glasses are very well made and eco-conscious. The Etnia Barcelona team really let me do my own thing and work at my own pace, which made it an enjoyable project and a great experience."
David Pellicer, CEO and founder of Etnia Barcelona, went on to explain the reason why we have partnered up with Africa Rising for this collection:
"We were certain that we needed to close the circle. If the glasses were inspired by Africa, we had to give back some of what they gave to us."
We felt tremendously rewarded when Ndaba Mandela (Chairman of Africa Rising) talked about his projects in Africa. An endeavor that he inherited from his grandfather to strengthen and create an African identity, far from stereotypes, which they seek to instill through the education of children. For us it is a great pleasure to collaborate on this project:
"It often seems like Africa is only displayed from the point of view of BBC or CNN. Africa is understanding its destiny and that it must control it. That's the most important."
Magnificent guests to present a collection with a grand concept and story behind it, which everyone involved experienced. We hope you can too, since ultimately our aim was to transmit all of this in an exclusive product!