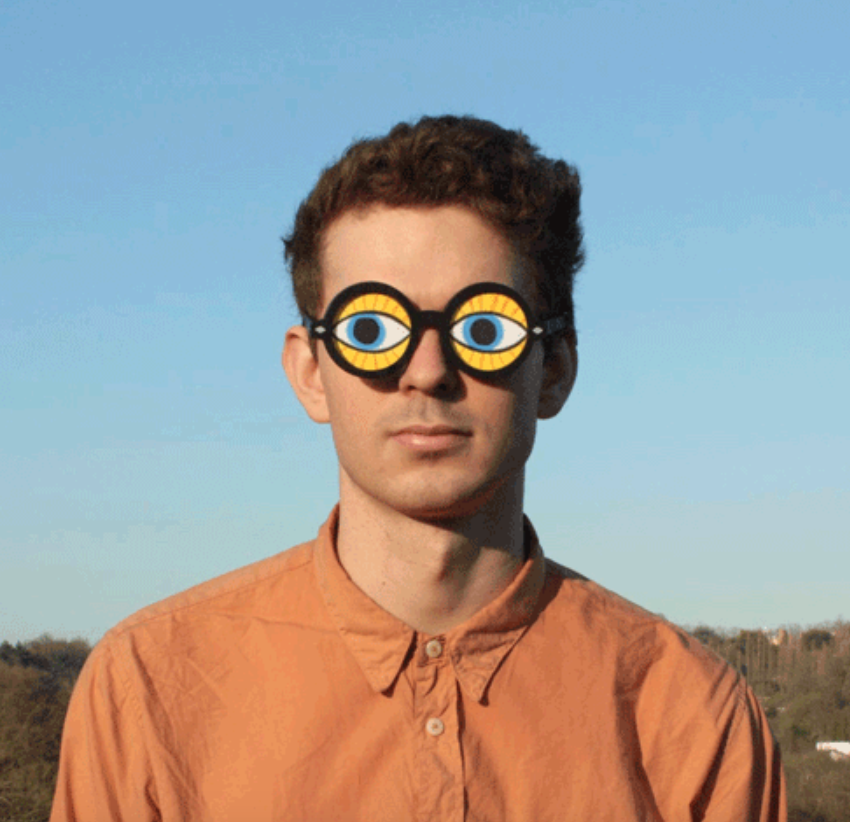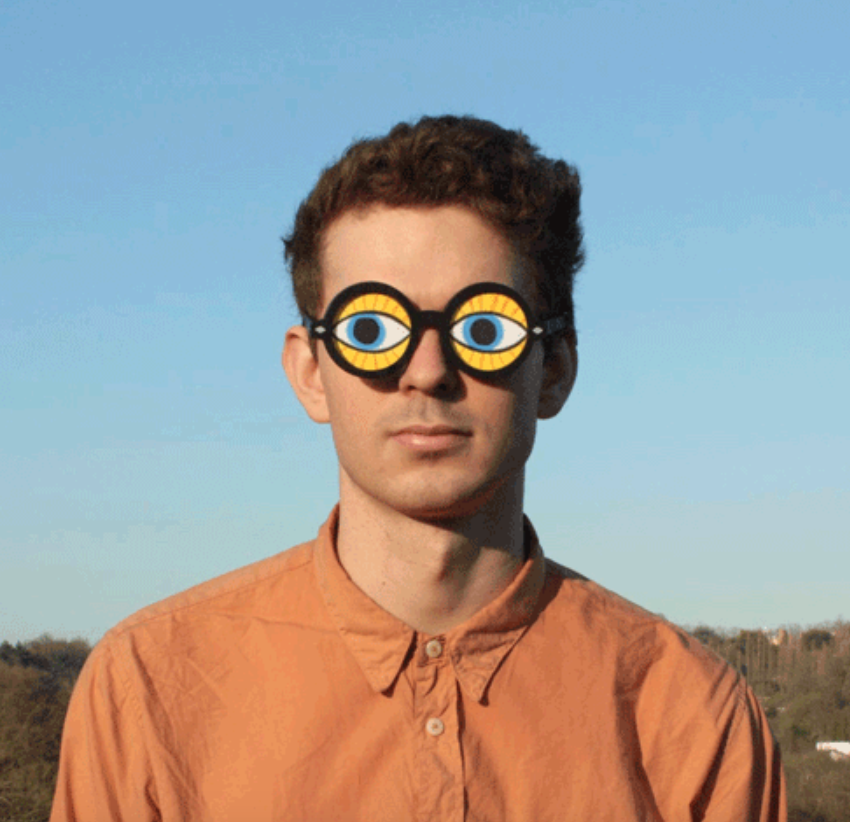 We are still running our #BeAnartist SS19 campaign, inspired by David Hockney's vibrant and enigmatic swimming pool "A Bigger Splash", to present this season's new glasses collection.
We have joined forces once again with the world of art, this time turning to the renowned illustrator and animator, Thomas Harnett O'Meara, who unleashed his creativity and took inspiration from our glasses and Hockney himself.
Thomas knows David Hockney's work very well as he had the honor of presenting a short animated film at the Tate Britain as part of the launch of the British artist's exhibition. He was immediately able to capture the vibrant colors and energy radiated by Hockney's sunny paintings.
This is why we wanted to work with Thomas and why we asked him to reinterpret our designs and the Hockney universe from his point of view. This resulted in these six animations that bring the "A Bigger Splash" painting and our glasses to life.
As well as this project, we also wanted to highlight his collaboration with Wes Anderson for the film Isle of Dogs, for which each main character in the cast of pets was created and sculpted by hand.
This project is the latest in O'Meara's impressive career, which has seen him work for Hermès Paris, Channel 4, and even the Crown Estate.
All of this great work has led to him win various awards at animation festivals, cementing his position as a renowned director of art and animation.
Thomas Harnett O'Meara, who is based in London, is passionate about animation and stop motion, but we also wanted to get to know him a little better that that. Don't miss out on our interview with him!
How would you describe your artwork? If you had to introduce yourself to someone who had never heard of you before, how would you explain who's Thomas Harnett O'Meara?
They could have a look at my website if they want… I specialize in stop motion animation and try to imbue the films with a sense of fun, craftsmanship and charm.
How would you describe your creative process during this project?
The creative process starts by loosely sketching some ideas; pools, sun loungers, palm trees etc. After a while I settled on just swimming pool scenes. These are drawn up in photoshop with the glasses in. Once Etnia Barcelona were happy with the concept art we made foam board mock ups of the sets, tweaking the designs and taking lots of measurements. The final sets are made from wood and painted up. The water is animated in 2D and then we used a projector to scale the frames up and trace the lines with white paint. These paintings are then swopped out frame by frame to create the illusion of movement. It all comes together when we set dress, light it, program the movements for the glasses and animate. Lastly is post production, sound and colour grade. Phew!
It's not the first time your work revolves around David Hockney's universe. What does his artwork mean to you?
Hockney's work has been part of my life as far back as I can remember. The Walker Art gallery in Liverpool (where I am from) has the painting 'Peter getting out of Nick's pool' and I went to see when I was around 7 or 8 with my dad, since then it has always stuck with me. Hockney is a master of composition and colour, which is something I aspire to myself.
In your opinion, in which ways has Hockney been a rule-breaker?
Hockney is a rule breaker and trailblazer for exploring his sexuality. We two boys together clinging was made in 1961, when homosexuality was still illegal in England, it is easy to forget how brave this was to paint.
Can you tell us a bit about your collaboration for the Tate Britain exhibition of David Hockney?
It was a dream project really. Tate gave me lots of time and complete creative freedom which is invaluable. When the film was finished Hockney said 'It's really cool' which is all the endorsement I need.
What does his painting "A Bigger Splash" make you feel?
It makes think of lazy holidays and sun drenched pools, it is almost as though you are lying on the sun longer watching a scene unfold upon the canvas.
 When was the last time you jumped into a pool? (your biggest splash moment)
I used to live near a lido in Hackney and would go swimming weekly. I really miss it but am moving to Herne Hill soon and they have a great outdoor pool there too, so will be back at it!
How does London feed your creativity?
London is full of inspiration, there are countless museums, galleries, exhibitions and parks to walk around. Most of my ideas come from chatting things through with friends or colleagues though.
What would you say you and Hockney have in common?
Haha I'm not sure. We both went to the Royal College of Art… Does that count?
 And what about David Hockney and Etnia Barcelona: what would you say we share?
Well you both love glasses, and a crisp sense of deign shared with a bold colour palette!