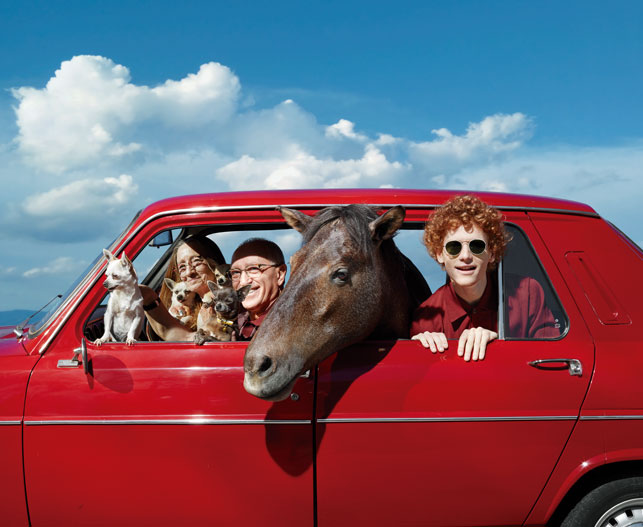 We continue to reveal all the details about #BeAnartist, our new campaign, with which we seek to convey our brand identity: Anarchic and Artistic at the same time. We are Anartists.
In our posts Vol.1 and Vol.2 explaining the photography of #BeAnartist, we saw that the campaign is built around the most powerful, surrealist photographs, all brimming over with cinematographic references. The photographer could be none other than Biel Capllonch, because his cultural universe and rebellious attitude make him an Anartist.
The photo featured in this post reflects commandment number 3 of our Anartist Decalogue: "The Anartist defies space".
Anartists see no limits and consequently end up doing the most unimaginable things. Oftentimes limits are imposed on us, either by society or by ourselves, and impede our creativity. At Etnia Barcelona we feel convinced that if we believe in ourselves, do not set ourselves limits, we are able to create the most marvellous things.
With the 3rd picture of the campaign, Biel Capllonch shows the Anartist defying space in an image with a clear nod to the Godfather (the horse) and to all of Wes Anderson's movies, both for the characters shown and the naivety of the image.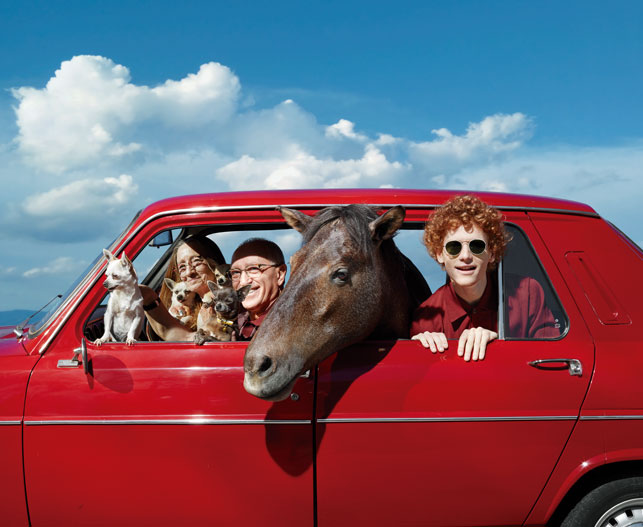 #3 – The Anartist defies space
The photo is surprising since anybody seeing such a family portrait might well expect to see a dog sticking its head out of the rear window of the car. But these Anartists not only travel with their dogs, but also with a horse that they've managed to wedge into the car, in defiance of both convention and space.
The 3 protagonists in the picture are all Anartists and show themselves to be such by their actions. Each sees the world through their own particular model of Etnia Barcelona eyewear.
The redheaded teenager sports a pair of Born Sun Sunglasses from our Vintage Sun Collection. Eyewear for men and women alike, for people who like a retro look: with their rounded shape and double metal bridge they certainly have an air of things vintage. We have designed 6 variations on our Born Sun theme, each offering a different colour combination.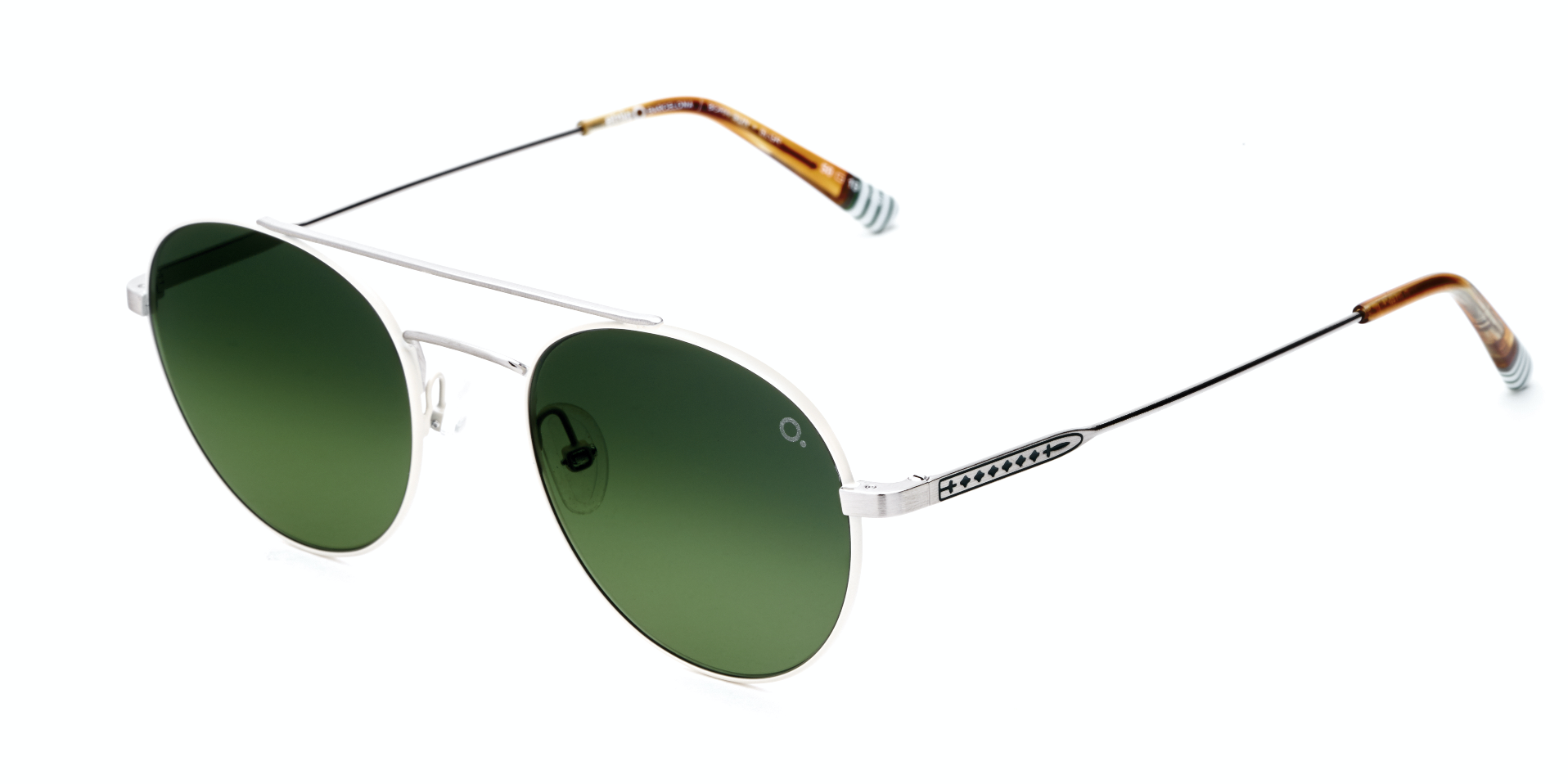 Born Sun SLGR
Like all of the glasses in our Vintage range, the metal temples are decorated with laser etched modernist inspired designs and hand painted. And, what's more, the temple butts are made in a natural acetate and we have added a touch of our characteristic colour with a different acetate at the temple tip, with herringbone, stripped or horn texture designs in different tones.
The lady Anartist in the picture wears a pair of Shinjuku prescription glasses, in red, gold and black, and rounded in form. Her glasses come from our Vintage Optical Collection and are available in six different colours. The frame is mixed: it combines a metal structure with natural acetate at the top of the front and temple tips. Just like our Born Sun line, since these frames form part of our Vintage Collection, they have etched modernist designs for both bridge and temples. The acetate temple tips are decorated with herringbone, stripped or horn texture designs in different tones, to add colour, the true sign of identity of Etnia Barcelona.
Shinjuku RDGD
The car driver in the photograph sees the world through a pair of our East Austin optical glasses, likewise from our Vintage Optical Collection. The frames are square shaped and combine metal and natural cotton based cellulose acetate. They are available in six different colour combinations, to suit all tastes. As with our Shinjuku design, both bridge and temples have been painstakingly worked to reproduce typical Barcelona modernist motifs.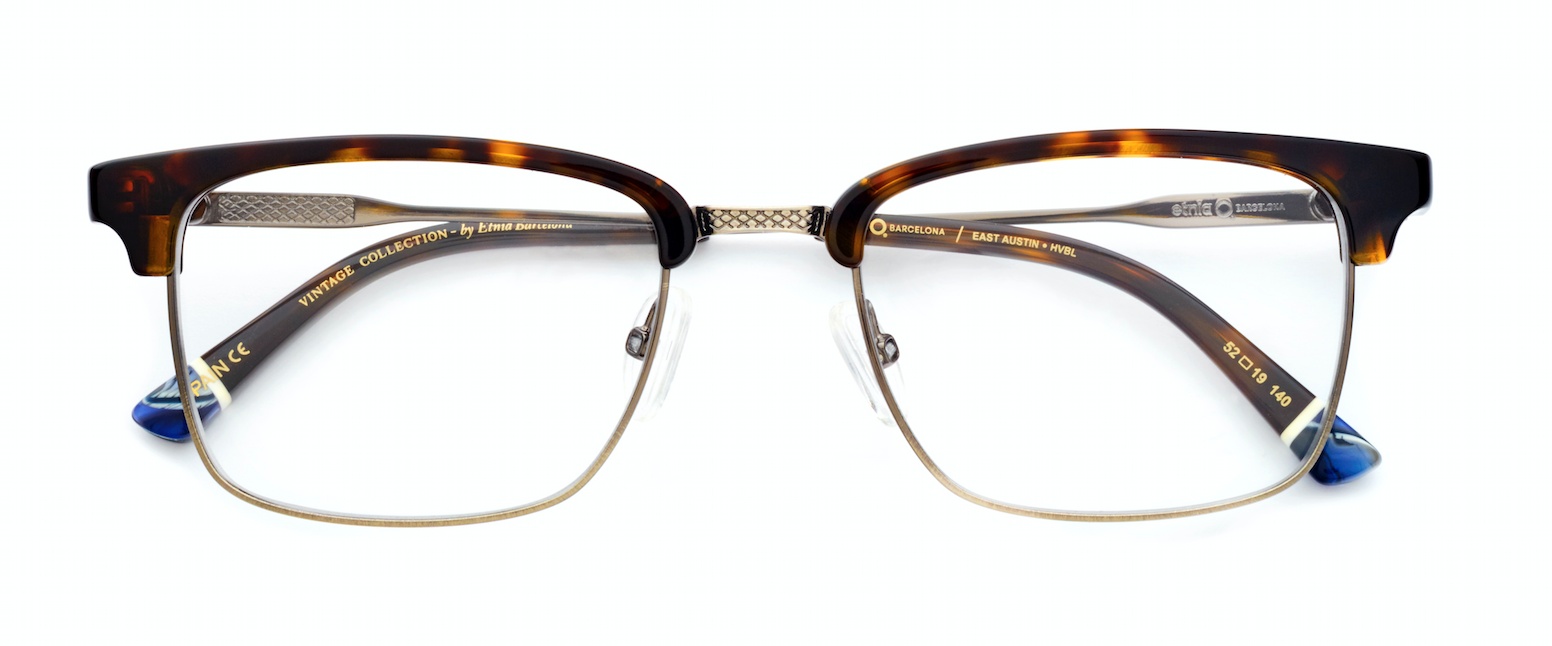 East Austin HVBL
Follow us on Instagram so as not to miss any of our #BeAnartist campaign.