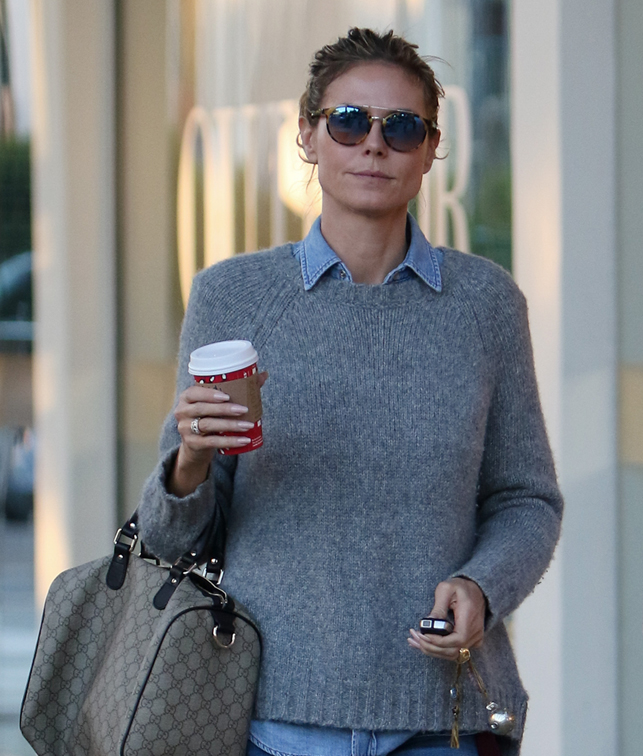 Heidi Klum, Cara Delevingne and Amber Heard – just three of the celebs recently spotted stylishly sporting their Etnia Barcelona specs.
Nobody can resist the design and attitude of our Etnia Barcelona eyewear. Just a few weeks ago, the German ex-model Heidi Klum, now based in Los Angeles, was spotted  wearing a pair of our Verdi Glasses on the streets of her adopted city. One of the first Victoria's Secret's Angels, she combined her Etnia Barcelona best sellers with a casual outfit, just right for everyday wear. Looking relaxed in basics; jeans, denim shirt and grey sweater, our designer glasses added just the right touch of "cool" and trend-setting.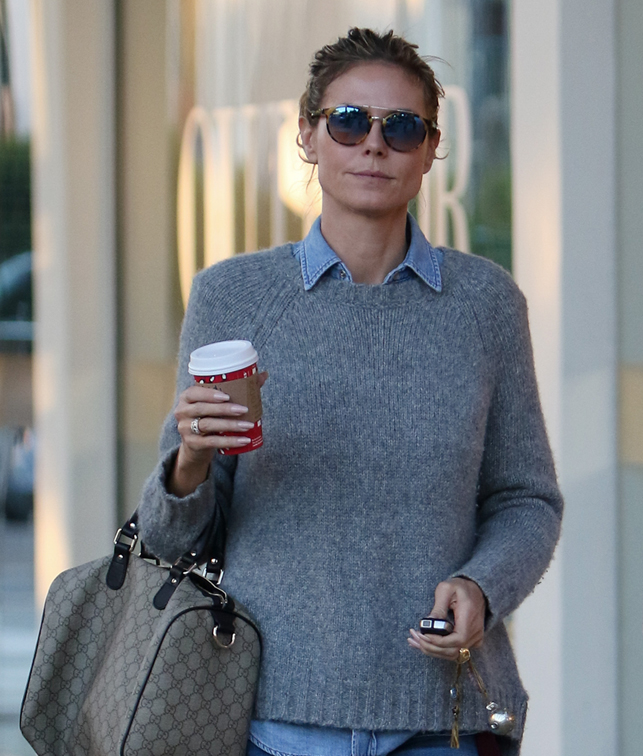 Heidi Klum in Los Angeles wearing our sunglasses Verdi Sun HVBL
The eyewear chosen by Heidi Klum is an updated version of our Verdi Glasses, which appeared in our first Originals Collection. While keeping the same round form, we have added some silvered metal bridges and bars which, combined with the carey acetate, offer a more contemporary look. Glasses which look stunning on the creator of the TV show "Project Runway", they are particularly flattering on square faces like hers since they soften those more pronounced angles.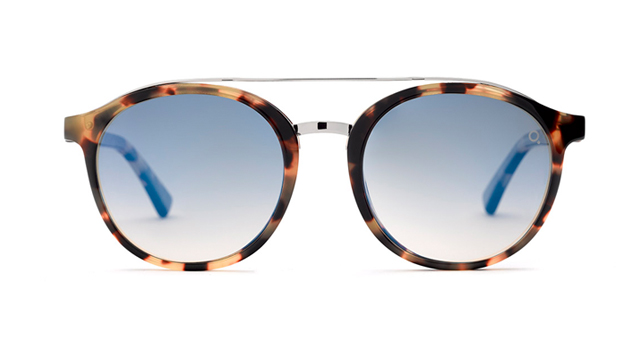 Etnia Barcelona Sunglasses – Verdi Sun HVBL
The young English model and actor Cara Delevingne is yet another celeb to recently sport our Etnia Barcelona eyewear. A great fan of Etnia Barcelona, Cara is one of our favourites with her intense, outrageous attitude which, at first, won her the sobriquet of "the new Kate Moss", and later led her status to be elevated to that of a feminist, millennial icon. For this impromptu outing, Cara Delevingne hid her new platinum blonde mane under a knitted hat and combined her outfit with a pair of black and gold Born Sunglasses, to create that tomboy look which she pulls off like no other.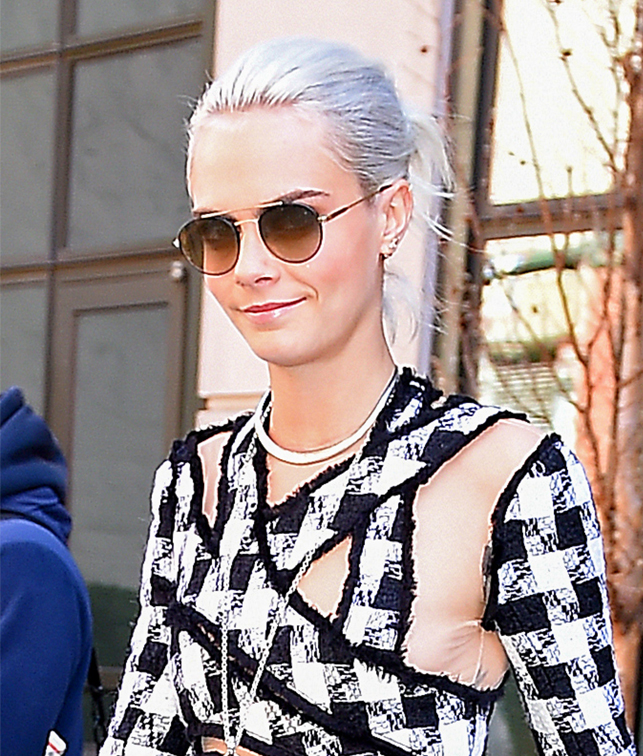 Cara Delevingne wearing our sunglasses Born Sun BZBK
Born Sun are trend-setting glasses which bring together two of the very latest elements: rounded forms and a double bridge. Moreover, they come defined totally by the Etnia Barcelona colour and quality DNA, with their laminated acetate temple tips with herringbone patterns and temples engraved with modernist motifs. With their double bridge, the glasses draw the attention to the upper part of the face of the wearer, flattering and balancing out rounder faces like Cara Delevingne's.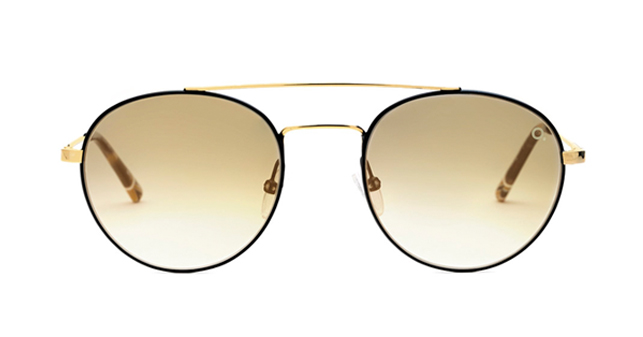 Etnia Barcelona Sunglasses – Born Sun BZBK
All of which makes our Born Sun eyewear a highly successful design, one which has also won the heart of the actor Amber Heard. Here, dressed in black with transparencies and trainers, the actor wears them in more summery vein, showing the versatility of the glasses, currently available in six different combinations. From gold frames with pink lenses through to a more discreet option with the frames in aged silver and brown lenses, we present our designs which adapt to the character and individuality of our #EtniaPeople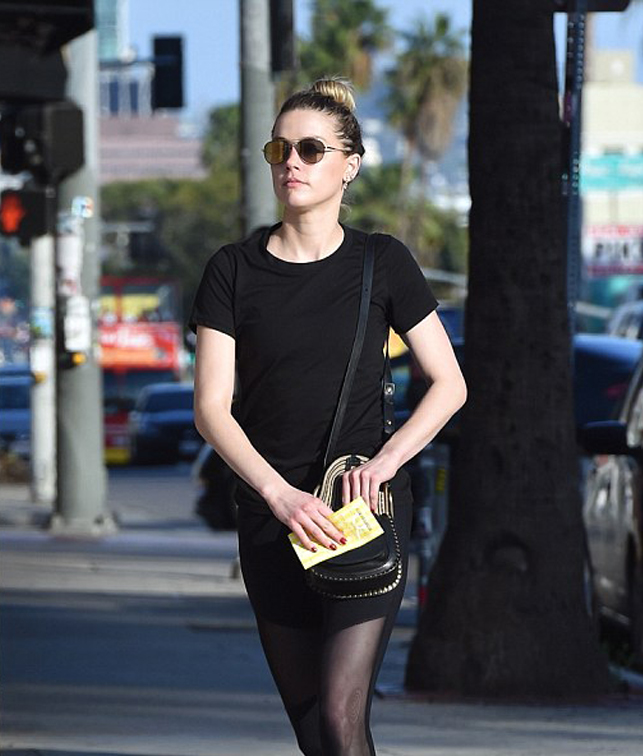 Amber Heard wearing Etnia Barcelona sunglasses Born Sun GRBR