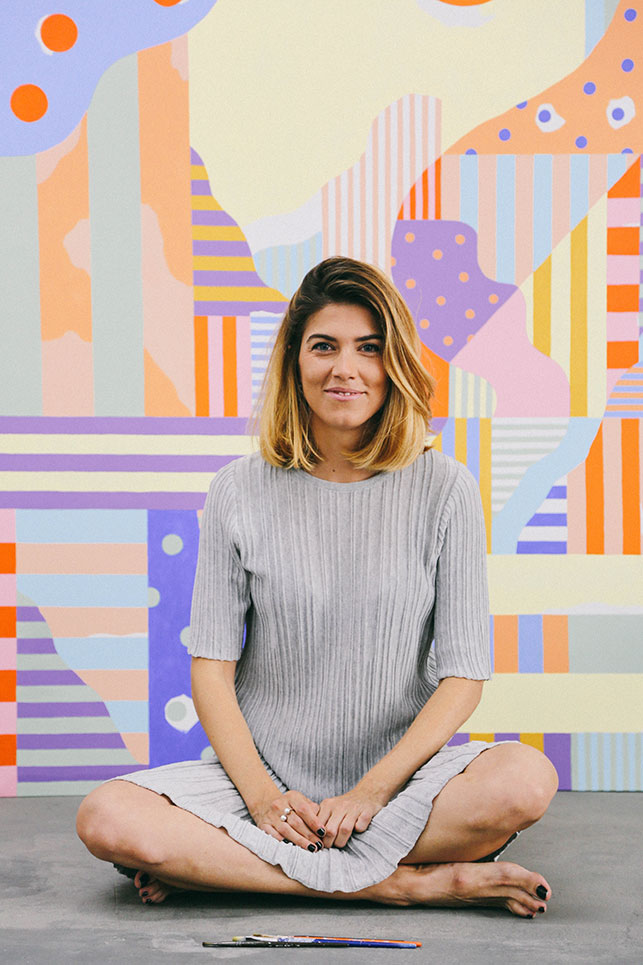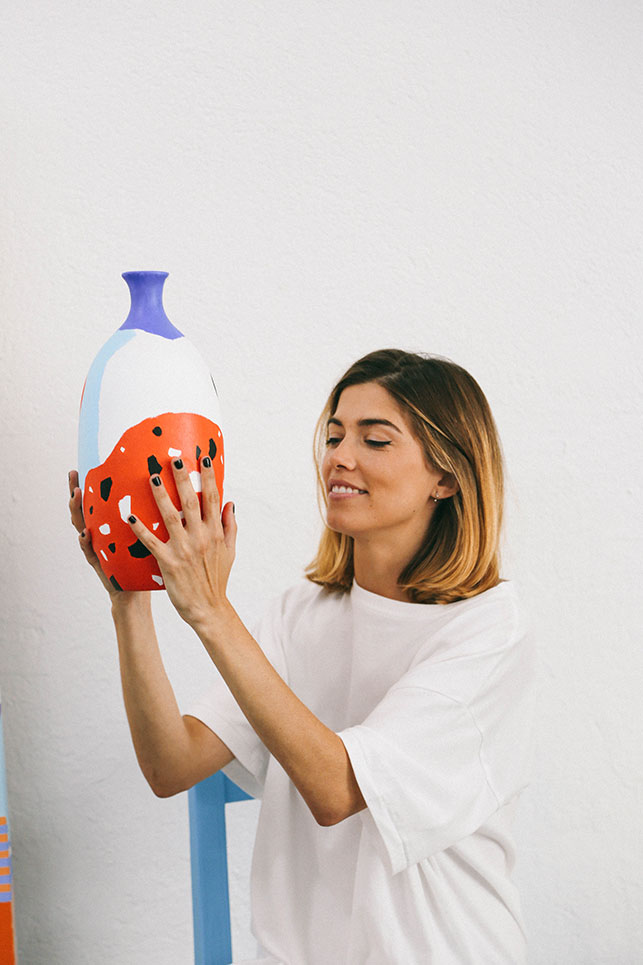 Color and shapes define the work of Mireia Ruiz, one half of the duo behind the Cocolia creative studio in Barcelona. Mireia's fresh conceptual style attracted us from the moment we discovered her on Instagram, and that's why we invited her to join the #EtniaCollective, our international creative community, so that she reinterprets our glasses using her artistic vision.
Mireia's vision is grounded in her graphic design background, but she is also an accomplished painter who likes getting her hands dirty when she works. In both disciplines, Mireia Ruiz shows a talent for combining color and expressing emotions through tones and composition.
In the image she has created for Etnia Barcelona, Mireia herself takes the starring role wearing our Trastevere YWHV sunglasses. Violet – the feminist connotations of which make it the artist's favorite hue – is combined with yellow, pink and red. It's a joyous composition that reflects the way Mireia feels about summer (as do we) as it rapidly approaches.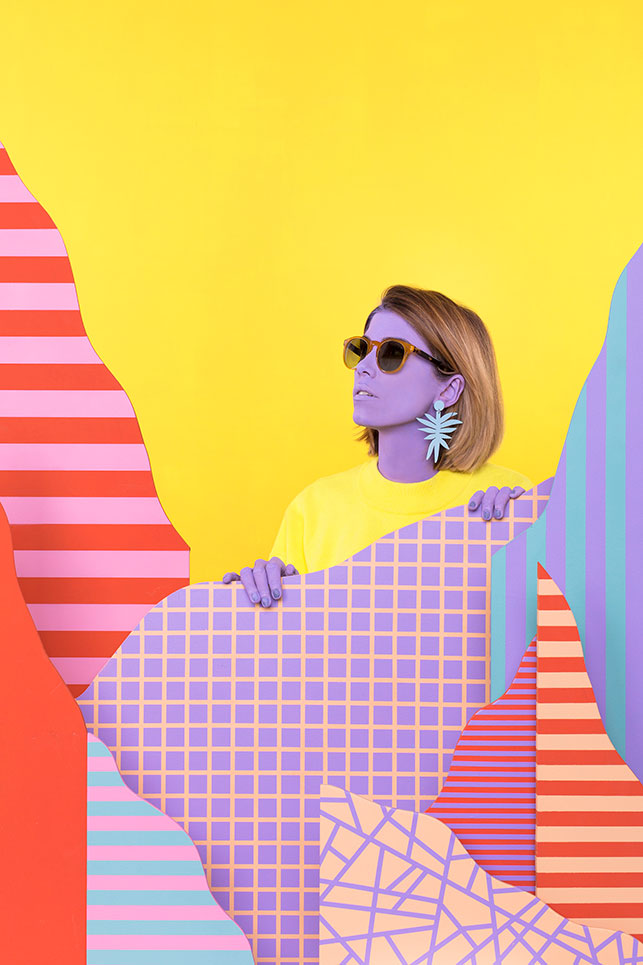 Follow Mireia on Instagram to discover her creativity, and read our interview to find out more about this rising star. Her studio Cocolia has already collaborated with fashion and accessories companies such as Swatch, Pacific & Co, and Adidas.
Tell us someone you admire that in your opinion has changed the rules.
I can't name just one, there are a lot of professionals that I admire. I like to think of artists who are feminine, colorful, and have personality. There's the designer Iris Apfel, the poet and painter Etel Adnan, the Japanese artist Yayoi Kusama, and the entrepreneurs Armi Ratia & Riitta Immonen (Marimekko). I need people with whom I can feel identified as a woman, as a creative person, and as a professional. I need to see that they've broken the rules with their work, such as using color to its fullest.
If you had to pick just one color; which one would it be?
It's difficult! But I think that this year deserves something different like violet, the color that represents the feminist struggle.
If there was a movie about you, what soundtrack would we be listening?
https://www.youtube.com/watch?v=JmcA9LIIXWw Culture Club – "Karma Chameleon" the lyrics Ha ha ha 😉
Recommend us a painter, writer, filmmaker, designer, musician… People that inspire your creativity.
More women, of course: I think Paula Scher, a graphic designer at Pentagram, is a brilliant woman with a lot of talent when it comes to typography and colors. She also paints stunning maps in addition to designing. There's also my friend the sculptor Carla Cascales, who infuses a lot of feeling and purity into her work. And the great muralist Marina Capdevila, and Vega at @eatingpatterns, who creates patterns with delicious food. There are so many great artists! So many impressionist and abstract artists have influenced me but I prefer mentioning women, since we need more female role models.
If Etnia Barcelona were an artist; which one would it be?
If we're talking about Barcelona in terms of design and artistic talent: Mariscal, a major Mediterranean designer and a great talent!
What inspires your creative process?
I'm inspired by color and shapes, generally speaking. Since the Memphis design movement of the 1980s, a colorful period of time that I enjoyed very much as a child. But there are also everyday things, like going to second-hand stores and buying things, that help me imagine new objects, only with a new coat of paint.
What do you feel or experience when you are working?
When I work on my projects I feel excited when I combine colors, and when I paint, I feel relaxed; I only think about the brush, the paint, and the space I have. I am very focused. Hours pass and I don't notice. It's lovely to have a profession that involves working on something that excites you.
What do you expect your work to tell or change?
The aim of my work is to use color and its combinations as a way to transmit emotions, which I think are subjective and translate in different ways according to the experience of the person who sees my project. Color can have a positive effect, or at least that's what I try to do in my paintings: to change the mood.
What's your desire?
There's not a lot that I want, since making a living from my passion is already checked off the list. I would like to have an exhibition on red and the circle, which I think is something that figures a lot in my work, but I haven't deeply explored its meaning.
If you want to discover the other anartists with whom we've collaborated, you can find them on Instagram with the hashtags #EtniaCollective and #BeAnartist. And keep checking for updates to our blog because the Etnia Barcelona family keeps growing!