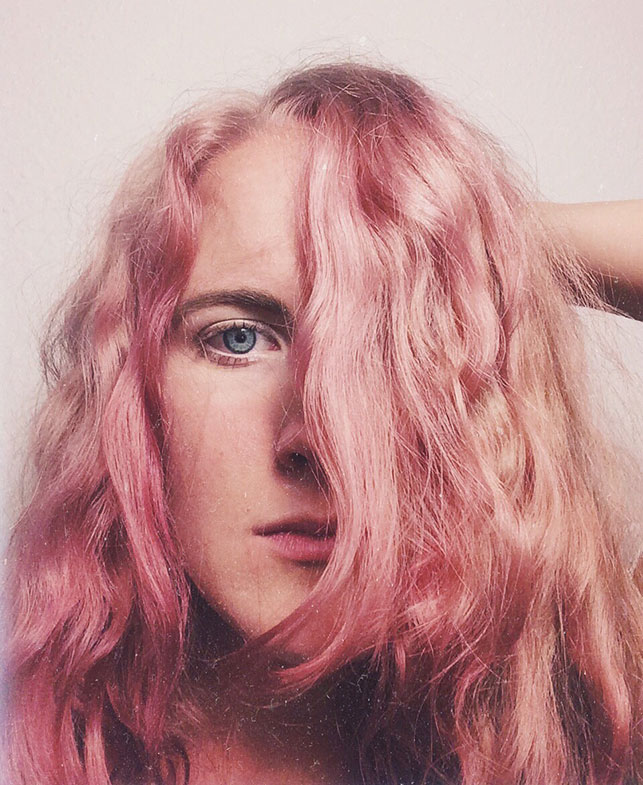 Intense colors, defined shapes, multiculturalism and the female figure all feature strongly in the work of illustrator Petra Eriksson, a Swedish artist based in Barcelona who has joined our #EtniaCollective creative community. With her passion for color and the free, individual and anartistic style that we have in common, collaborating with Petra Eriksson was only natural given our shared principles and sources of inspiration.
These include her commitment to feminism, which Etnia Barcelona celebrates with our latest campaign, #BeAnartist. Petra Eriksson not only dedicates much of her work to women through the incredible portraits that have become her trademark. The illustrator is also the founder of the female empowerment platform Her Barcelona – which is part of Her Global Network – and she even illustrated the book "Bygone Badass Broads" by Mackenzi Lee, which is dedicated to 52 female pioneers who left their mark on women's history.
For her collaboration with Etnia Barcelona and our #EtniaCollective initiative, Petra shares one of her famous portraits of women on Instagram. The subject has the same strength of character as Petra's contemporary heroines and wears one of the boldest sunglasses models from our Originals 2018 collection. It's the Etnia Barcelona Spiga Sun BKWH which combines round pink lenses with striped acetate details, this summer's trendiest pattern. Petra also dresses her subject in stripes: with her violet-colored lipstick and forward-looking gaze, the model seems ready to bravely take on any challenge.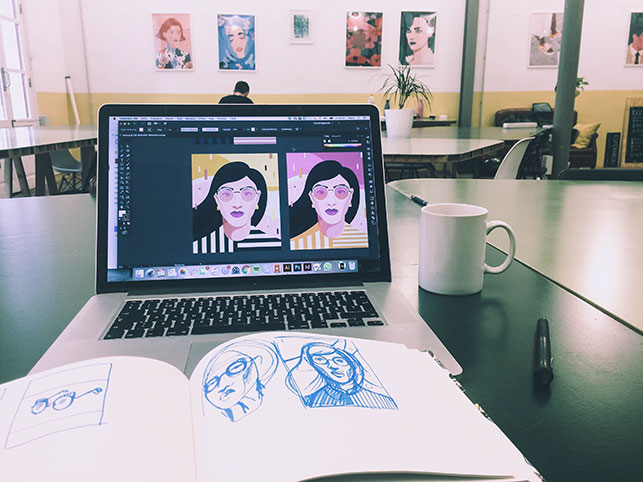 Learn more about Petra Eriksson through our now-classic Etnia Barcelona Q&A:
Tell us someone you admire that in your opinion has changed the rules.
One of my icons is Iris Apfel who I think is such an inspiring human and definitely I think is someone who has challenged the rules about how to live ones life. For me she represents someone who has realized that you don't have to follow societies rules about binge a certain way or doing a specific thing just because you've reached a specific age. Her playfulness and attitude towards life is something that I think most of us would need more of.
If you had to pick just one color; which one would it be?
Oh. This is an impossible question for someone like me but if I really have to pick just one I would pick blue. A really punch Klein blue.
If there was a movie about you, what soundtrack would we be listening?
Maybe Little Dragon
Recommend us a painter, writer, filmmaker, designer, musician… People that inspire your creativity.
Painter: Karin Mamma Andersson Writer: Donna Tartt (If you haven't read The Gold Finch or The Secret History I urge you to head out to your nearest library/book store straight away) Filmmaker: Hayao Miyazaki Designer: Bea Szenfeld Musician:
If Etnia Barcelona were an artist; which one would it be?
Andy Warhol
What inspires your creative process?
I find that inspiration can come from pretty much everywhere but some examples of the things that often sparks my creativity is patterns on flowers and plants, film scenography, description of characters in novels and the abundance of colours in a candy store. When I feel creatively stuck I also enjoy to just walk around my neighborhood in Barcelona to look at people, street art and half fallen down fasades.
What do you feel or experience when you are working?
It depends quiet a lot from project to project. Sometimes I have a very clear idea of what I want to create from the beginning but sometimes the idea takes a bit of time to form and that can be a bit stressful if the project is under a tight deadline. But usually I enjoy the rough state of sketching, then get into a mode of building things up in the computer which is usually when I feel a bit doubtful about my idea or composition. Then it's usually good to take a break or just force myself to keep playing around with the elements of the image. The most enjoyable stage is often once I feel that the foundation is there and I can add the final layer of details as this is the most relaxed and playful part of the process.
What do you expect your work to tell or change?
I mostly hope that it will inspire other people to create something, whatever that might be.
What's your desire?
I don't think about desires as much as I think about goals and plans, but those I have a lot of. One of them which I'm hoping to achieve this year is to find a proper artist studio where I will be able to paint and in have more space for my work. In general though I'm hoping to get the chance to continue working as a freelance creative for a very long time, though my plan is to mix up my illustrations work with other kinds of creative collaborations and hopefully also get the chance to do more talks and workshops.
Petra Eriksson is the latest artist to join our international creative community. To get to know more people like Petra, follow the hashtag #EtniaCollective on Instagram and discover a variety of styles, looks and takes on fashion that can't fail to inspire.