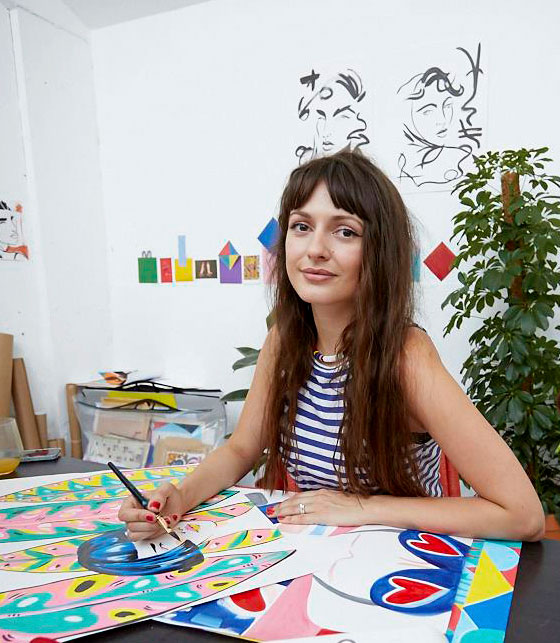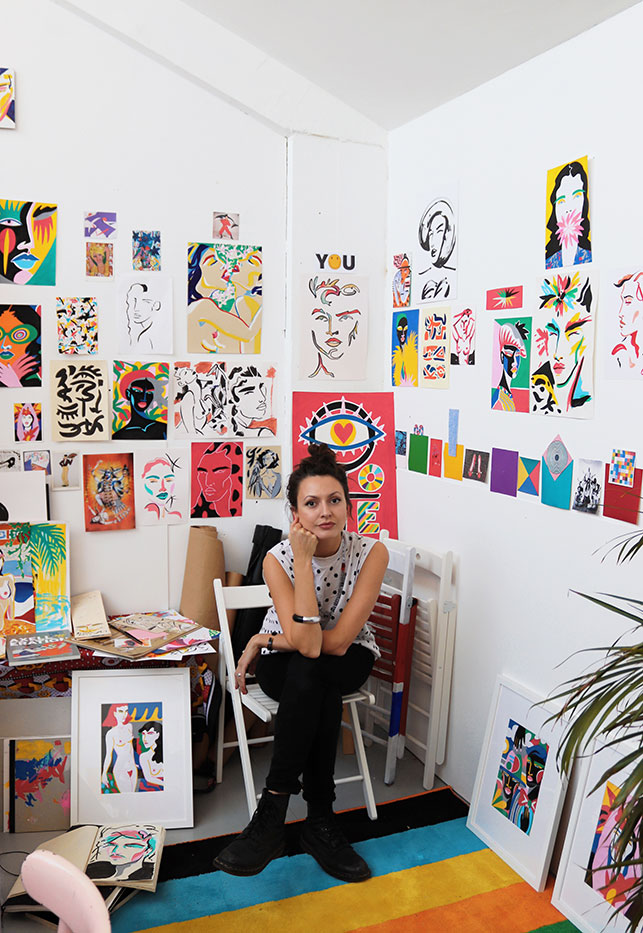 When it comes to the work of Lynnie Zulu, there are three elements that inspire us the most: her expressive, spontaneous sketches; her energetic colors; and her strong female protagonists. The British artist, better known as Lynnie Z. is the latest to join our international community of #EtniaCollective artists, where we invite creative people from all over the world to reinterpret our Etnia Barcelona eyewear designs. They are given complete freedom to share these on Instagram.
Lynnie Z. chose one of our top sunglasses from the Originals 2018 collection: the Nisantasi, featuring a double bridge, round lenses and a slight cat-eye shape, which combines our exclusive Mazzucchelli acetate material with metallic arms. The Nisantasi glasses are designed for women, which is why the artist, based in London's East End, decided to place them on one of her powerful female characters.
In this work, created specifically for Etnia Barcelona, Lynnie Z. demonstrates why she's been selected to collaborate with renowned media outlets like the New York Times and brands like Coca-Cola, Taschen and Nike. The woman, a multicultural modern-day femme fatale, seems to challenge us with her gaze. Lynnie herself grew up in a family that taught her to love different cultures and had with a strong connection to Africa.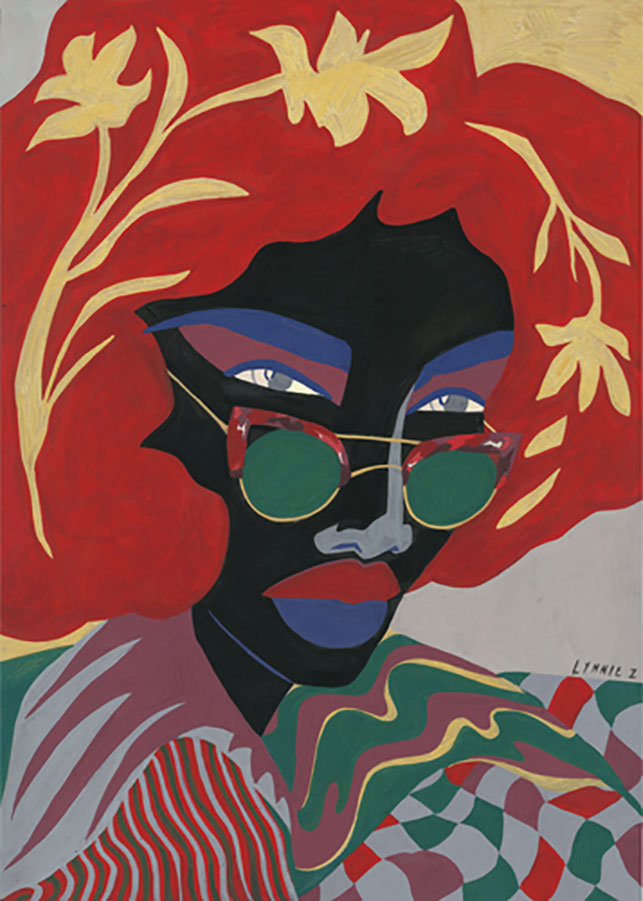 From a young age, she felt more inspired by people than landscapes or still life, and she continues to fill her art with extraordinary characters that embody a message of female empowerment. Her working style is largely spontaneous; she's a great defender of freedom of expression and avoiding the dangerous realm of self-censorship. She's also not a fan of preparing each project down to the tiniest detail, since she doesn't want her creative freedom to be curtailed in any way.
That's how she's able to create authentic, intimate work, which we at Etnia Barcelona identify with 100%. Plus, her works are must-see. Find out more about them through our #EtniaCollective question-and-answer session.
Tell us someone you admire that in your opinion has changed the rules.
Josephine Baker has created a wonderful legacy as a dancer, singer and a spy with a pet leopard but most importantly an activist against racial discrimination and gender inequality. Through her humorous and charismatic performances, she created artful spectacles that highlighted racial issues and became the first black entertainer to perform to an integrated audience.
If you had to pick just one color; which one would it be?
I don't think colours can live without each other. So i'm going to break the rules and say mustard yellow, red and black.
If there was a movie about you, what soundtrack would we be listening?
Totally mood depending.. but at the moment 'Love Dance of the Saroos' by Joe Meek.
Recommend us a painter, writer, filmmaker, designer, musician… People that inspire your creativity.
Nick Cave is heroic wordsmith and a constant source of inspiration that fuels my creativity. If i'm ever in a rut and need something to snap me out it Nick Cave's work never fails to activate the muse. I find his wild energy incredibly motivating no matter how murderous or helplessly romantic his tone is, it always produces a stirring in me that results in something very creative.
If Etnia Barcelona were an artist; which one would it be?
Perhaps an Artist like Evelyne Axell? Her work exudes a sort of fresh cut psychedelia with a distorted female gaze. Sexy yet classic thrown on it's head, much like Etnia Barcelona.
What inspires your creative process?
being uninhibited is a very important part of my creative process. I prefer not to preplan and to give myself up to that freedom of expression, devoid of being overly conscious of my first impressions. I try not to have a preempted vision of what the final image will look like because it can restrict the natural evolution of an image.
What do you feel or experience when you are working?
Colour, music and people all are elements that can spur the creative process along into great places. I tend to aim to be in an open state of mind, so my focus can be in the present and I can let things instinctively happen.
What do you expect your work to tell or change?
I want my work to emit a positive sensuality in its tones and it's subjects matter. because My work is usually created on impact and is compiled with fast mark making, I'd like to think this energy can engage with the viewer.
What's your desire?
In the next 5 years hopefully my work to be places beyond what I might of preconceived. I would like my work to continue to develop into new and exciting areas, exploring different approaches with scale and mediums. I have lived in London for 7 years now and the notion of eloping on self initated art residencies has started to become a fundamental aspect to my plan of the year ahead. I can imagine living somewhere else in the next few years, somewhere with even more creative freedom where I can work even larger scale with art materials, sunshine and time on tap.
The Etnia Collective community keeps growing. Discover new emerging talent on Instagram via the project hashtag #EtniaCollective. And soon, also on our blog!